Description
Air Inline Flow Speed Control Pneumatic Valve 3/8″ Tube OD Composite Push In To Connect Fitting
WIC Valve PFV Series composite flow speed control air valve one touch push in fitting equipped with a convenient one touch release button that provides a easy and quick tubing connections with no special tools required.  Our unique stainless collect design offers a secure connections that hold the tube firmly without restricting flow. Yet the special adjustment needle design provides a high precision air flow adjustment.
Air Flow Controller Fitting Specifications
Operating Pressure
0 – 150 PSI
0 – 990 kpa
Vacuum
0 – 29.5 in Hg
750 mm Hg
Operating Temperature
0 – 60 °C
32 to 140°F
Application
Air
Recommended Tubing Material
Polyurethane, Nylon, Polyethylene, Polypropylene.
Air Flow Control Valve Material of Construction 
Plastic Body
PBT (Polybutylene terephthalate)
Metal Body
Nickel Plated Brass
Release Button
POM (Poly oxy methylene copolymer)
Grip Ring
Stainless Steel
Thread Sealant
Teflon
O-ring
NBR (Buna-N)
Schematic of Flow Control Valve Construction: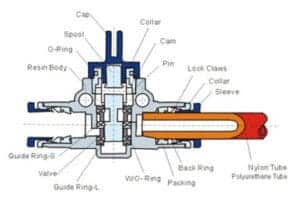 Fitting Installation and Removal Guide:
How to install the tubing into fitting:
1) Cut the tubing square ensure the outside diameter is free of score marks and no burrs.
2) Simply push tubing past the O-ring to the internal tube dead stop by hand.
3) Pull the tubing back gently to ensure it is secure for leakproof connections.
How to remove the tubing from fitting:
1) Press evenly on both sides of the release button against fitting body, keep the release button (collet) depressed and held in this position
2) Pull the tubing to slide out.
Additional information
| | |
| --- | --- |
| Weight | 0.20 lbs |
| Dimensions | 3.00 × 1.00 × 1.00 in |