3/8″ CPVC Anti Corrosion Electric Solenoid Process Valve
Description
3/8″ Inch Anti Corrosion Salt Water Acid Alkali Resistant Electric Solenoid CPVC Valve Normally Closed
WIC Valve 2PCZ Series 2-way normally closed anti corrosion electric solenoid process valve is to control On/Off of acid, salt water, alkali, liquid and water.  The 2PCZ series electric valve equips with the low power consumption continuous duty encapsulated coil that provide energy savings, reliability and performance. This anti-corrosion solenoid solenoid valve has one 3/8″ Inch NPT inlet and one 3/8″ inch NPT outlet port. Valve stays close when the coil is de-energized, and it opens when energized.  Our unique piston design allows the fluid completely separate with the valve metal components.  No corrosive fluid contacts the metal parts.  2PCZ Series acid resistant solenoid valve can be mounted in any position.
2PCZ Series CPVC Anti Corrosion Electric Solenoid Valve Specification:
Model Number: 2PCZ-3/8-D-L
Valve Type: 2 Way Normally Closed (Valve opens with energized)
Service Media: Corrosive Fluid – Acid ≤ 15%, Alkali, Salt Water
Operation Model: Pilot Piston
Flow Model: Uni-Directional
Body Material: CPVC (Chlorinated polyvinyl chloride)
Seal Material: Viton
Armature Tube Material: Stainless Steel
Spring & Plunger Material: Stainless Steel
Operating Pressure: 5 PSI to 115 PSI
Operating Temperature: -5 to 60 °C
Port Size: 3/8″ Inch NPT Female Port
Flow Rate: 3.5 Cv
Orifice Size: 10mm
Coil Voltage Option: 12V DC, 24V DC, 24V AC, 110V AC, 220V AC
Low Power Consumption Coil: Upgrade Optional 12V DC – 8W, 24V DC – 6W, 24V AC – 9VA, 110V AC – 9VA, 220V AC – 8VA
Low Power Consumption Coil Inrush Current: 24V DC – 44W, 110V AC – 95VA, 220V AC – 155VA
Low Power Coil Certification: CE Certification DC Coil
Coil Class: H Class IP 65
Voltage Tolerances: DC: +10% –5% ; AC: +10% -15%
Electrical Connection: DIN 43650A Connector with LED Indicator
2PCZ Series Anti Corrosion Electric Solenoid Valve Dimensions (Unit=mm):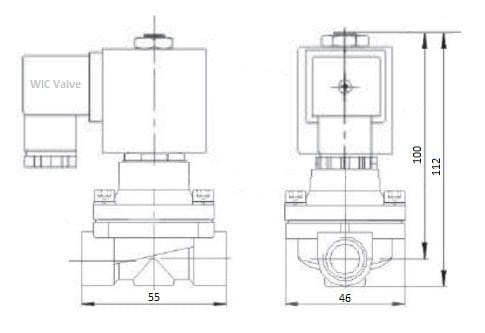 Frequently Asked Questions:
What is CPVC? 
CPVC stands for Chlorinated polyvinyl chloride.  It is a thermoplastic produced by chlorination of polyvinyl chloride (PVC) resin.   CPVC is altered by a free radical chlorination reaction that effectively increases the chlorine content of the material that can withstand higher temperatures than standard PVC. The key advantages of CPVC material is that it resistance to a large range of acidic and caustic chemicals.  Such as most of the acids, bases, salts and board range of organic media, within certain limits of concentration and temperature.  CPVC is commonly use for hot and cold water applications and industrial liquid handling.
What is advantages of DIN Connector?
Instead of using the Grommet lead wires, the coil has the prongs or pins to connect a standard DIN connector. Therefore, the coil will have a male connection and the plug connecting to the coil is a female connector. The DIN connector for this 2PCZ series valve is a DIN 43650A 18mm (PG11) type. The advantages of the DIN Connector is that it allows a quick valve or coil exchange. Yet it is a excellent insulation properties and good for water tightness.
Additional information
| | |
| --- | --- |
| Weight | 1.00 lbs |
| Dimensions | 5.00 × 4.00 × 3.00 in |
| Coil Voltage | 24V DC, 110V AC, 220V AC |